8 QUESTIONS OF FEMININITY, REALITY & MATERNITY TO HANNAH ROMAO, LIFESTYLE INFLUENCER AND ACCOMPLISHED ENTREPRENEUR, YOUNG SOLAR MOTHER OF RAPHAËL, 2 MONTHS.
You have a child recently, how do you experience your new femininity? Is it a new femininity by the way?
Hannah Romao: Oh yes completely.
It's a new way of living, I think there's the woman before and the woman after, who is a much more mature woman. I also think that we gain much more self-confidence in the question of being a woman, but at the same time there is also a loss of confidence in the question of sensual femininity. And that's why it's very important not to lose, to forget your place as a woman once you give birth. You have to have little moments with your spouse, it's also important not to focus 100% on your child but also to think about yourself.
What has changed in your perception of yourself?
Finally, pregnancy was different. I think there was the post-pregnancy phase and the during-pregnancy phase. And femininity during pregnancy, I loved. I loved having a belly, I felt really good, I felt quite sensual anyway. I know it's not the case for all women but it's important to feel good when you're pregnant.
It's beautiful, in fact it's another facet of femininity?
Yeah, that's it. And I didn't think at all, before being pregnant I said to myself "oh la la I'm going to have a big belly, I'm going to feel like a cow." But in fact, no, I really enjoyed that moment, it was a really unique moment, I carried my little Raphaël's life, so I'm very happy.
What does this change in your professional life? Did you have any apprehensions?
Today I have two jobs: I'm a content creator on my Instagram but a year ago I also launched an application. It's a start-up that connects influencers with brands and that was really complicated because as an influencer you can work from home but as a partner I have other people to manage so it was quite complicated.
I was working, the day before my delivery I was still answering emails, and even the same day I was still in the maternity ward exchanging emails. Ok, I'm really trying to delegate as much as possible, but it's true that we don't have maternity leave, so it's very difficult.
Above all, I think the hardest part was not motherhood, it was above all the aftermath. The after when we arrive home and we have to change our lifestyle completely, and I still have trouble adapting my days because it's true that today I think 100% of my son and I try more and more to get back to work and I know that more and more I will start to find a balance in my routine.
Did it have an impact on your creativity?
Yes, because I find that today my creativity is more focused on the family/mom focus. Today is a point that I really want to highlight because I find it so exciting, there are so many things to say and above all that I realized that my community is really committed to motherhood.
Today I talk every day with people who give me their experiences, and it's really great so I really liked turning my content creation towards the motherhood side which is exciting. And there are plenty of things to say, to see, to do, like photos, and in fact we really want to take photos with our family.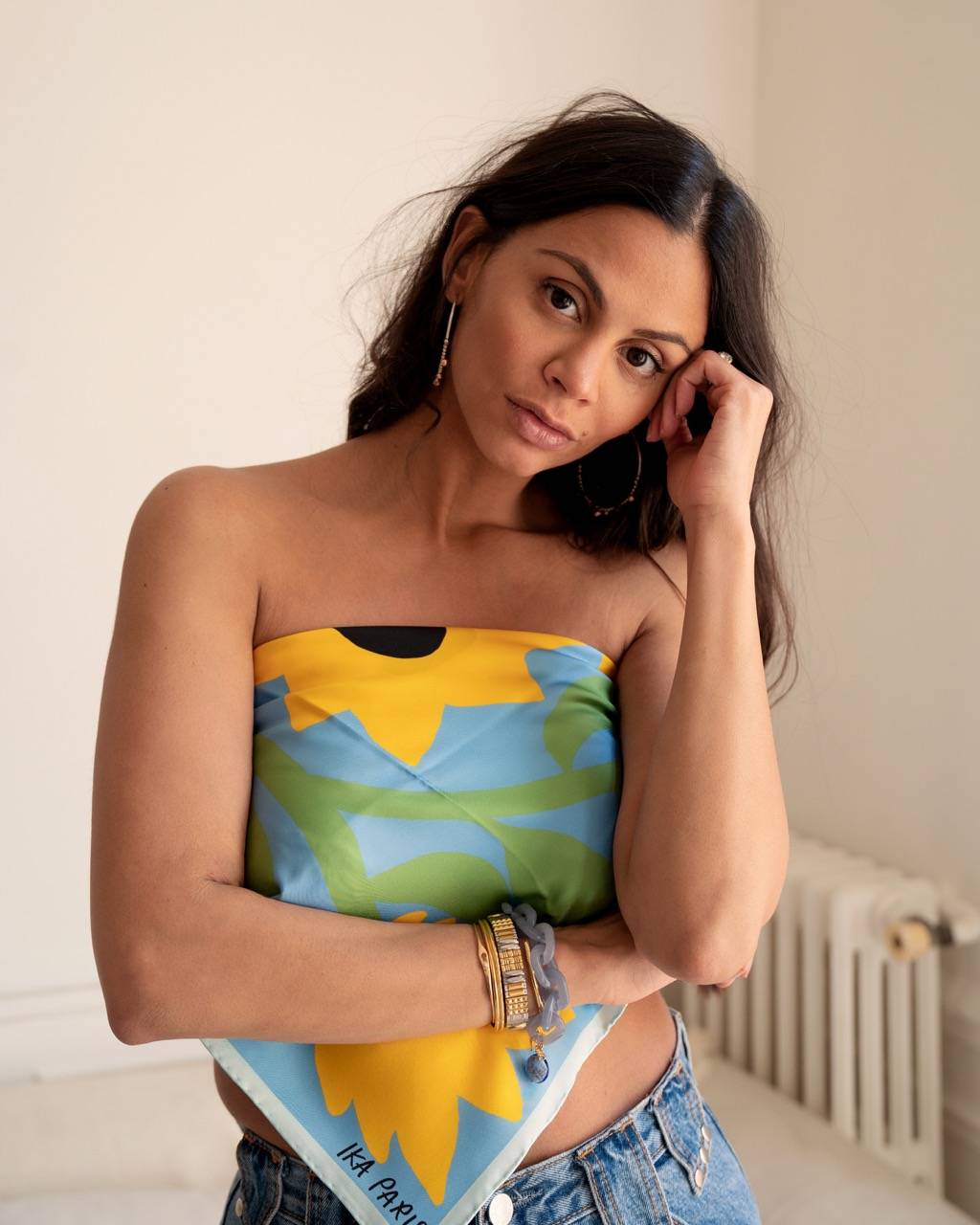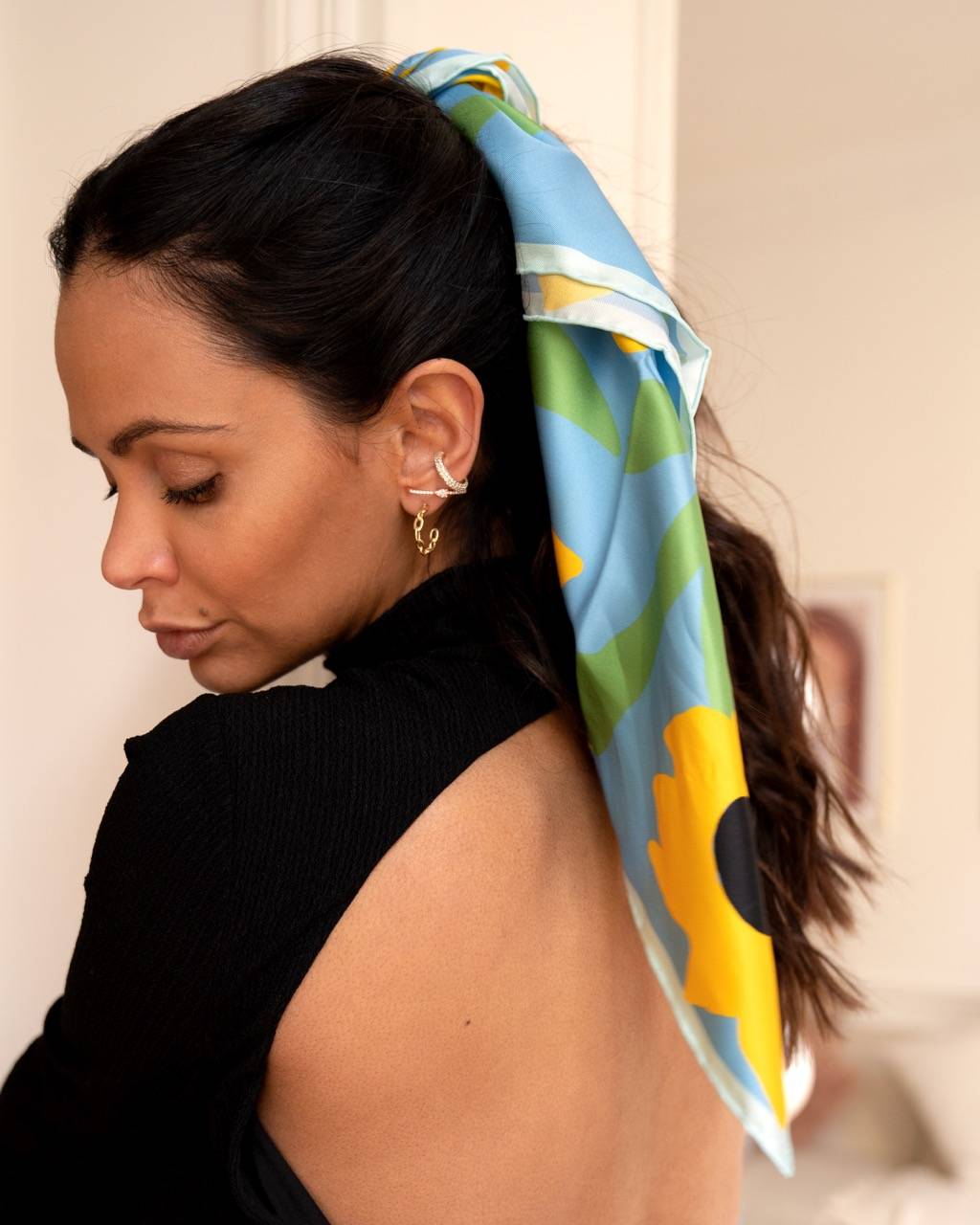 You are Brazilian, do you think there is a difference between the way women experience motherhood in France and in Brazil?
It's quite funny because I waited a long time before becoming a mother, I didn't want to open up this new part of my life in relation to my work because I didn't want to take a turn in terms of creativity, term of content, which is too tight a turn, either for me or for the people who follow me.
And then now I allow myself a little more to highlight it because it's just a great joy on a daily basis and I'm keen to share it.
When you have a child, it's overwhelming, it's super cool, it's sometimes difficult, there are a lot of ins and outs around motherhood and it inevitably impacts your creativity at one time or another.
In the end, it pushes you to be more efficient, perhaps more creative in the sense that you have a new subject that you feed differently.
What is the woman who has had an influence on your life who has been a role model?
My mother. My mother completely, I am very very close to my mother as you can see...
His mother is in the next room, smiling, Raphaël in her arms - she comes every day, she helps me a lot and for me it has always been a great source of inspiration. I'm very, very close to my mother, she's my best friend and that's also what I want to pass on to my child.
I want my child to be my best friend. Of course I want us to have the role of parent but I also want us to be able to exchange and talk about anything and everything.

What values ​​would you like to pass on to your son?
So actually, once I spoke with an old neighbor from Brazil, and she told me something that I've never forgotten. She said: "Today, the husband is your companion for life, but a child is important to raise for life". So even if it's difficult, I don't want to be the mother hen who wants to keep my child, but above all I want him to learn values ​​and be able to gain his independence later. But hey, in real life it's more difficult.
With my mother we have a very, very close relationship and I also want to have a very close relationship with my son, but I think it's also very important that he can learn to take his independence.
It's easy to say, but to do it is something else. But it's true that this thing when she told me it really stuck in my head you know yeah in fact she's right, the best way to raise her son is to raise him for life and not raise it for yourself.
Do you have a totem flower?
The orchid. I love orchids because they last a long time. I don't have a green thumb at all. It lasts longer than roses. Or if not for beauty I like hydrangeas.
There are two bouquets. It's eternal flowers and this one I was inspired by my wedding bouquet, it's not dry flowers, it's flowers that have actually been stabilized. So no need for light, no need for water, so it keeps for years.
A dinner of dreams, which three women, dead or alive, would you dream of inviting to dinner?
I adore Bernadette de Gasquet, a figurehead of motherhood.
She has contributed to a more modern vision of birth, childbirth and the fundamental role of the perrine.
She had 3 or 4 children, giving birth in the 70s, which had nothing to do with now. The dads didn't care, because they felt it didn't concern them. They came to see the child quickly and then the women stayed 15 days in the hospital. And so Bernadette de Gasquet passed her medical degree - while she had her children at home - and she worked for an uninhibited motherhood, full and complete, softer, more respectful of the woman's body.
Follow Hannah Romao on Instagram @hannahromao