8 QUESTIONS OF FEMININITY, REALITY & MATERNITY TO DELPHINE DESNIEGES,
ALIAS DEEDEE, NEW MOM AND LIFESTYLE INFLUENCER
IRRESISTIBLE SINCERITY.
How do you experience your femininity as a young mother? What has changed in your self-perception?
Deedee: Being a woman and being a mother are the same thing and totally different at the same time, and that's what's absolutely crazy. It redefines the woman completely.
At the level of his body we discover unsuspected resources. And during my life I lived some difficult things, I had cancer when I was 17 so I already knew that my body was pretty crazy in general, but motherhood gives you also a way of still experiencing things differently and it's pretty crazy to see how our body is capable of doing incredible things.
You deal a lot with the image, do you have the impression that it has changed your style, the way you dress?
I like beautiful clothes, I like beautiful materials, but for the past few years I've been trying to buy less and prettier pieces that have a real story.
I have a fairly responsible vision of fashion because I think we all have a part to play in the ecological transition.
Being pregnant, I tried not to buy maternity clothes. I found it a bit of a shame to use clothes for a few weeks or a few months and then pass them on, throw them away or sell them afterwards.
What values ​​would you like to share with your son?
I really want him to be a little boy who is simple and caring.
It's super creepy because we feel invested with a mission to transmit the best to them...
I would like him to be a feminist little boy, open to equality between men and women and to be able to work at his own level for a better representation of all women in society.
What impact can this have on your creativity?
It's quite funny because I waited a long time before becoming a mother, I didn't want to open up this new part of my life in relation to my work because I didn't want to take a turn in terms of creativity, term of content, which is too tight a turn, either for me or for the people who follow me. And then now I allow myself a little more to highlight it because it's just a great joy on a daily basis and I'm keen to share it.
When you have a child, it's overwhelming, it's super cool, it's sometimes difficult, there are a lot of ins and outs around motherhood and it inevitably impacts your creativity at one time or another.
In the end, it pushes you to be more efficient, perhaps more creative in the sense that you have a new subject that you feed differently.
Are you afraid of becoming a "mom influencer"?
Yes of course. And obviously the maternity part is a subject that is very divisive, which can generate a lot of frustration and even pain. For example, I don't give my son's first name, and I expose him as little as possible on social networks, it's a completely personal choice. I always try to tell myself that I want this account to be close and sincere and from there I make spontaneous choices, which look like me.
There is a certain form of voyeurism on the networks. And at the same time my course of PMA, I know that there are many women who confide and who would like me to tell them more too. In the end, there is no right or wrong way to speak on the internet.
I really think that the main thing is that you find yourself there and that you don't give more than what you want to show just for the purpose of visibility or commitment and that you can still share your little joys of everyday life and the little things that have made you progress. It's a balance to find.
Do you have a flower totem and what does it inspire you?
The peony.
I find her absolutely beautiful and what I really like is that you often buy her in bud, and she blooms for a few days and she hatches, all her collars, I find that just sublime...
I'm lacking in nature, I think you can hear it.
Your dream dinner, who are the 3 women dead or alive that you would dream of inviting to dinner?
I would like to have dinner with Simone de Beauvoir, and I would be so impressed that it would take my appetite away. I would look at her with eyes completely lit up I think she would be scared, I would take a small coupette to relax a little.
Georges Sand is also a figure that speaks to me, she is a woman who was a pioneer on many subjects, beyond her talent as a writer.
And finally it would please me to take a woman at random, it would be nice and then we miss it a little today, the meetings. So it could be a bad meeting - maybe we wouldn't have anything to say to each other and the exchange wouldn't be entirely virtuous or fruitful.
But in the end, are you doing a trade in order to really have something, or is it not just the pleasure of the trade?
Is there a female figure that inspires you?
I adore Bernadette de Gasquet, a figurehead of motherhood.
She has contributed to a more modern vision of birth, childbirth and the fundamental role of the perrine.
She had 3 or 4 children, giving birth in the 70s, which had nothing to do with now. The dads didn't care, because they felt it didn't concern them. They came to see the child quickly and then the women stayed 15 days in the hospital. And so Bernadette de Gasquet passed her medical degree - while she had her children at home - and she worked for an uninhibited motherhood, full and complete, softer, more respectful of the woman's body.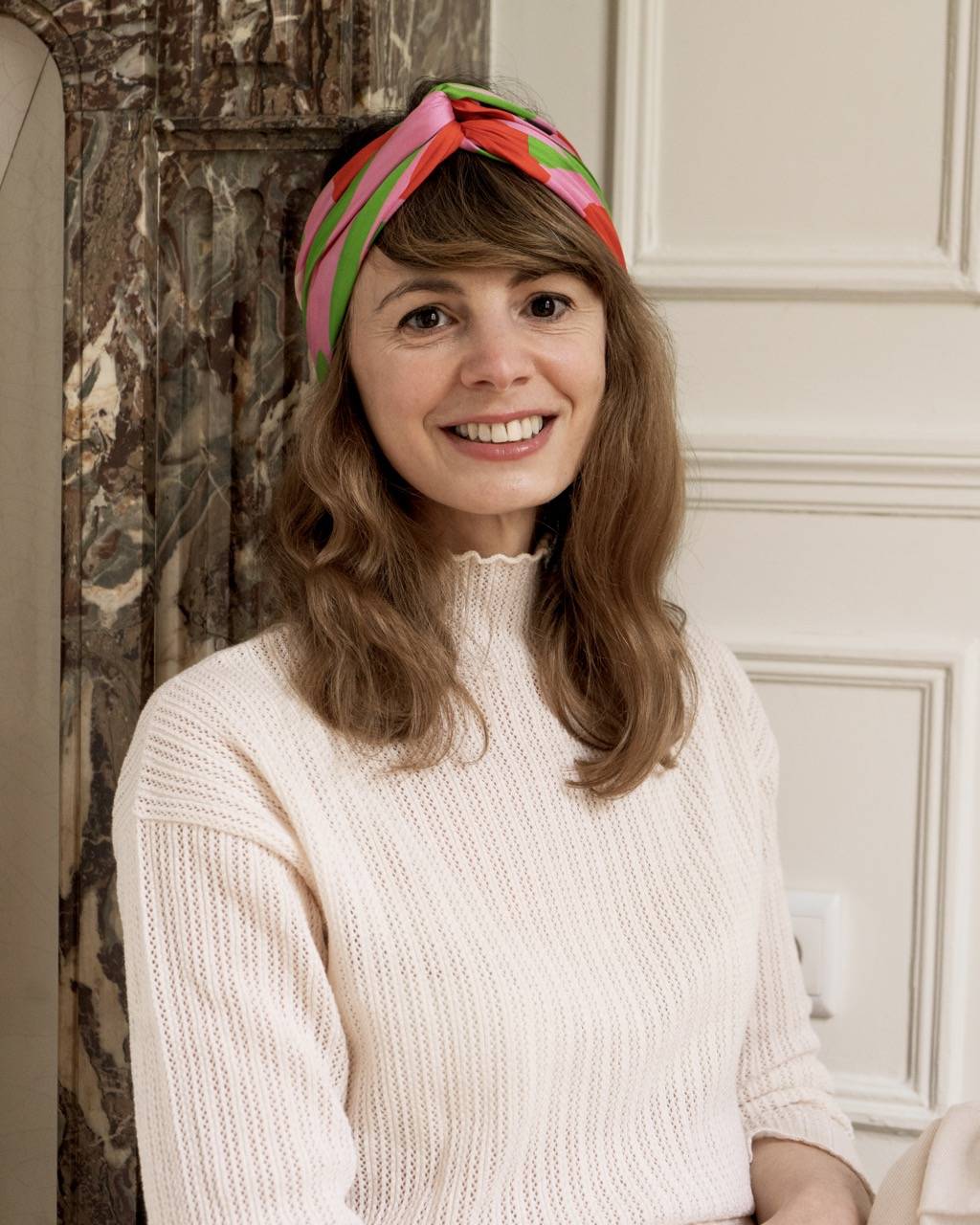 Follow Delphine Desneiges on Instagram @deedeeparis